minimum

6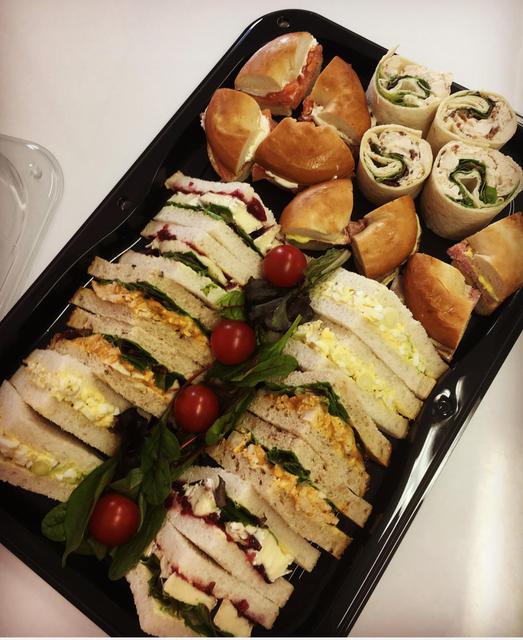 Sandwich Platters (24hrs notice is required)
A minimum 24hrs notice is required. Sandwich / Wrap / Bagel Platters are ideal for your office lunch, meeting or event.
We recommend that you allow 1.5 per person. ie. 6 people : You choose 9 units.
Our food platters are all made to order and delivered to you in a purpose made boxes that are not reusable.
You can select your favorite fillings and choose from our white / granary or wholemeal bread, wraps or bagels.
Gluten free options are available on request.
Please let us know if you require any vegan / vegetarian options or have any special requirements or allergies that we need to be made aware of.
Popular Fillings
Roast Beef
Roast Chicken
Bacon
Sausage
Smoked Salmon
Ardennes Pâté
Brussels Pâté
Duck & Orange Pâté
Prawns
Tuna
Ham
Cheese
Egg
Pepperoni
Nutella
Marmite
Banana
Salad Options
Salad Tomato
Cherry Tomato
Cucumber
Mixed Leaf Salad
Iceberg Lettuce
Wild Rocket
Peppers
Sliced Red Onion
Cress
Sweetcorn
Grated Carrot
Coleslaw
Sliced Pineapple
Sauces & Chutney
Marie Rose Sauce
Caesar Sauce
BBQ Sauce
Brown Sauce
Tomato Ketchup
Horseradish Sauce
Cranberry Sauce
Coronation Chicken Sauce
Mustard Mayonnaise
Salad Cream
Mayonnaise
English Mustard
French Mustard
Dijon Mustard
Whole Grain Mustard
Apple & Red Onion Chutney
Red Onion Chutney
Branston Pickle
Hoisin Sauce
Spread